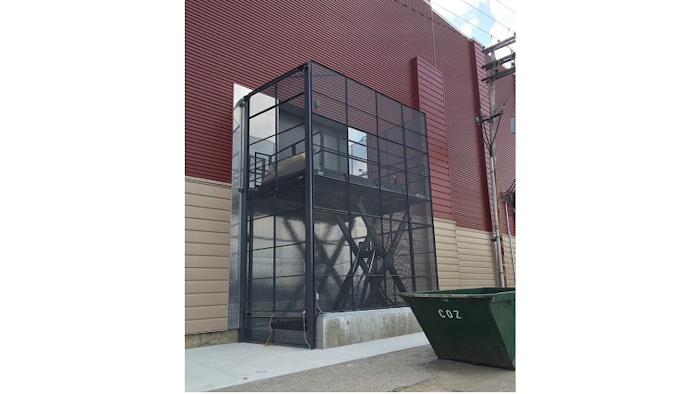 This dock lift (pictured) is a 3000 series lift from Advance Lifts (St. Charles, IL), modified for a higher travel of 11'2". The platform is 8-ft wide by 16-ft long on the building side, and 15-ft long on the opposite side. The front of the platform is angled to help accommodate the space needed for trucks to back up to it.
This building is used for theatrical, musical, dance, and other events and the purpose for the lift is to unload trucks to the stage level. The lift is in a raised pit and rests at 30" off the ground for accessing the various sized trucks used by the performance groups, and is surrounded by a 3-sided enclosure using the building as the 4th side.
To make this work logistically, a special door interlocking system was required. The door can open as long as the lift is within a given range to meet any size truck, and the lift can only be operated by personnel on the lift, and can only be accessed from the stage level. This was requested by the customer for both for logistical and safety concerns. Landing locks are used to facilitate storing the lift at the upper stage position. Other safety devices include the bi-parting gates with interlocks and a custom handrail configuration.
www.advancelifts.com; 800-843-3625