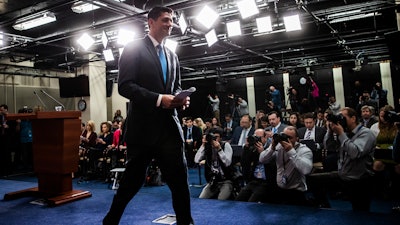 AP Photo/J. Scott Applewhite
Washington, D.C. – The National Association of Manufacturers (NAM) is the largest manufacturing association in the United States, representing small and large manufacturers in every industrial sector and in all 50 states.
NAM President and CEO Jay Timmons released a statement following the retirement announcement of House Speaker Paul D. Ryan. Ryan abruptly announced that he will retire rather than seek another term in Congress:
Paul Ryan is a man of the highest character and values, and his departure from elected service and the Speakership will leave a huge void in our country's soul. The men and women of manufacturing have no stronger ally and advocate in Congress than Paul Ryan. And the American people have no more decent, principled and honorable public servant in office today than the Speaker.

Those character traits are desperately needed throughout our political system today and at all levels. Voters should insist that candidates—regardless of their political philosophy or political party—embrace and live the values that exemplify the life and service of Paul Ryan. The business community, for its part, should use our influence and resources to encourage men and women of character to run for office, and we should vigorously support them in their efforts. Only by embracing these types of candidates will we be able to end the vitriol and divisiveness of today's politics and restore the faith of Americans in our government structure.

The public policy legacy of Paul Ryan is strong, and it will survive the test of time. As a member of Congress from the 1st District of Wisconsin, as chairman of the Budget Committee and the Ways and Means Committee and now as second in line to the presidency as House Speaker, Paul Ryan has never faltered from his fundamental belief that America succeeds when the forces of free enterprise, competitiveness, individual liberty and equal opportunity are unleashed. Because of his unparalleled leadership, especially during this Congress, manufacturers have been provided the tools we need to invest in new plants and equipment, hire new workers and raise wages and benefits for our employees.

In addition to the gratitude that manufacturers extend to Speaker Ryan, we remain equally indebted to his amazing wife Janna and their three beautiful children for the sacrifices they have made as the family members of an elected official. Life is made up of many choices, and Paul Ryan has wisely chosen his family as his first priority, just as he always has. Manufacturers will greatly miss him in Congress, but we hope his service to the people of this country has simply taken a momentary pause and that he will be back on the trail again someday."
NAM is an advocate for a policy agenda that helps manufacturers compete in the global economy and create jobs across the United States.