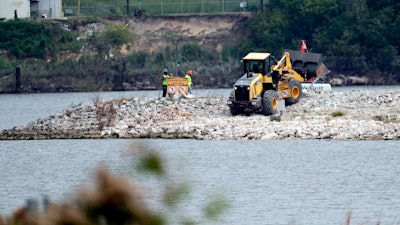 AP Photo/David J. Phillip
WASHINGTON (AP) — Federal environmental regulators have reached a long-awaited agreement with the owners of a polluted toxic waste site in Texas that was damaged during Hurricane Harvey, releasing dangerous chemicals into a river. The Environmental Protection Agency says it reached a final deal with International Paper Co. and McGinnes Industrial Maintenance Corp. to design a plan to remove dioxin-contaminated materials from the San Jacinto River Waste Pits Superfund site, located outside Houston.
Both companies, which had fought cleanup efforts for years, said in statements that they look forward to working with EPA to protect the river and community. EPA says the estimated cost for the project is $115 million and is expected to take more than two years.
The Associated Press reported last year that more than a dozen Superfund sites including the San Jacinto pits were flooded by Harvey. EPA's press office assailed AP's reporting as fear-mongering "yellow journalism" but weeks later acknowledged leaks of potentially harmful materials from San Jacinto and a second Houston-area site.
The expansive cleanup project announced Tuesday includes removing 212,000 cubic yards (162,000 cubic meters) of contaminated materials and creating infrastructure to contain remaining pollutants so they don't spread beyond the site. The work will be overseen by EPA and state environment regulators.
"EPA will ensure that the remedial design removes all the contamination as quickly and safely as possible and permanently protects the health and safety of the surrounding communities and the San Jacinto River," EPA Administrator Scott Pruitt said in a statement Monday. At the San Jacinto River Waste Pits, a concrete cap meant to contain pollutants from spreading during a hurricane was damaged by the rushing floodwaters, releasing chemicals into the river.
The Superfund site — one of the nation's most polluted places, according to EPA — is on and around a low-lying island that was completely covered with roiling floodwaters when the AP surveyed it on September 1. EPA said a sample collected after the damage showed dioxin levels at more than 2,300 times the level needed to trigger a cleanup.
Dioxins in the San Jacinto River are due to paper mill waste that was stored there. The EPA says dioxins, which accumulate in the tissues of fish and other animals, can cause cancer and reproductive and developmental problems in humans. Most exposure is through food.
Environmentalists praised the decision to remove contaminated materials from the site, saying both companies responsible for the pollution have fought efforts for years to clean it up. "This is glorious news. We never thought we would see the day. This agreement means the site clean-up can move forward without being tied up in a court battle," Jackie Young, executive director of Texas Health and Environment Alliance, said in a statement.