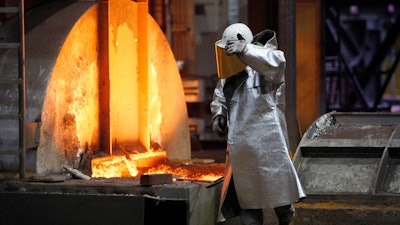 President Donald Trump said he plans to levy penalties of 25 percent on imported steel and 10 percent on aluminum imports next week.
According to the Alliance for American Manufacturing (AAM), the need for steel action remains clear. The AAM points to the Commerce Department's findings which revealed that at least 10 blast furnaces have closed since 2000 while steel imports have continued to surge.
AAM President Scott Paul issued a statement urging President Trump to follow through on his promises:
"President Trump made an encouraging show of support when he met with steel industry executives today. Now it's time to act on the Section 232 investigation.

"We're on the brink of a potentially historic rebalance of America's trade priorities. As we noted in a letter to the president this week and our cable TV ad, we are confident a robust steel trade action is good for our economy. A decision to restore sanity to global steel markets will help create domestic jobs and preserve our national security.

"But to achieve those results, the president's enforcement action must be broad, robust and comprehensive. We urge the president to stand by our nation's steel communities. They are counting on him to follow through on this."
Paul penned a letter to President Trump on Wednesday. In it, Paul stated that immediate action "is necessary to prevent this strategic industry – vital to our national security, defense requirements, and economic welfare – from falling into the hands of China, Russia, and other strategic competitors.