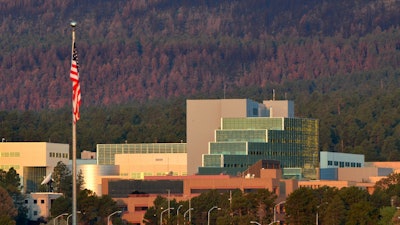 Flickr
SANTA FE, N.M. (AP) — A recent fire has put a national laboratory's ability to operate safely into question.
The Defense Nuclear Facilities Safety Board announced Friday that it will hold a hearing next month to discuss the future of the Los Alamos National Laboratory, the Santa Fe New Mexican reported. The board is an independent panel that advises the U.S. Department of Energy and the president.
A fire broke mid-April at the lab's PF-4 plutonium building where the plutonium cores of nuclear weapons are produced. Lab officials said that the fire was put out quickly and only caused minor injuries.
According to the report, the board is unsure if the lab is fit to continue to operate and handle increasing quantities of plutonium in coming years after a series of problems with management in the maintenance and cleanup of the dangerous materials.
The Department of Energy has announced plans to increase manufacturing of the plutonium pits at Los Alamos over the next decades. President Donald Trump's budget proposal will also increase funding for weapons work in the next fiscal year.
The moves make local nuclear watchdog groups uneasy.
"Fattening up our already bloated nuclear weapons stockpile is not going to improve our national security," said Jay Coghlan, the director of Nuclear Watch New Mexico, in a news release issued Friday. "New Mexicans desperately need better funded schools and health care, not expanded plutonium pit production that will cause more pollution and threaten our scarce water resources."
The board will have the chance to get the opinion of a number of experts on the matter at its June 7 hearing.