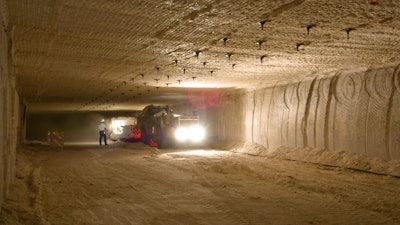 David X. Tejada/U.S. Department of Energy via AP, File
ALBUQUERQUE, N.M. (AP) — Operations at the federal government's nuclear waste repository in southern New Mexico resumed Friday as managers acknowledged there was radioactive waste in the area where a portion of the underground facility's ceiling collapsed earlier this week.
The acknowledgement came a day after the U.S. Energy Department announced there had been a rock fall at the Waste Isolation Pilot Plant. The agency's office in Carlsbad initially said there was no waste in the area, but watchdogs voiced concerns.
The radioactive waste included two canisters that were encapsulated in holes bored into the salt formation that makes up the walls and ceilings of the repository and its underground disposal rooms. There also were pieces of equipment in the room where the collapse happened that were contaminated by a 2014 radiation release.
Watchdogs pointed to agency documents and testimony during a recent hearing, saying officials knew what was in the room.
"For them to say there's no waste, that's just worse than false," said Don Hancock with the Southwest Research and Information Center, an Albuquerque-based watchdog group. "Documents available to the public show 320,000 pounds of contaminated equipment in the room. That is waste. They know that."
Hancock said the equipment contains fuel and other fluids that have never been drained, since crews have been kept out of the area for more than two years due to safety concerns.
Wednesday's collapse prompted an evacuation. Workers heard a loud thud while doing inspections underground, so they left the area and all work was stopped.
Repository spokesman Bobby St. John said air monitors underground did not register any radiological release after the rock fall.
Officials also said no one was injured.
Work was allowed to resume Friday following an inspection of the underground area, St. John said.
The repository was carved out of an ancient salt formation about a half-mile below the desert, with the idea that the shifting salt would eventually entomb the radioactive tools, clothing, gloves and other debris that make up the waste.
Rock falls are not uncommon in areas where crews have been unable to perform regular maintenance to shore up the walls and ceilings of the salt caverns.
Officials said the repository's geotechnical engineers had been monitoring for more than a year the ground movement in the room where the collapse happened this week. They said a rock fall was anticipated.
Access in the underground disposal area has been limited in the wake of the 2014 radiation release, which was caused by an inappropriately packed drum of waste that had come from Los Alamos National Laboratory. That release contaminated part of the area, forcing the closure of the repository for nearly three years and resulting in a costly recovery.