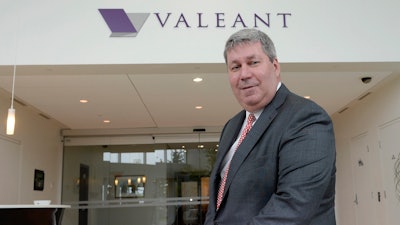 Ryan Remiorz/The Canadian Press via AP
Valeant Pharmaceuticals asked its CEO to cooperate with a Senate investigation into drug pricing after he failed to appear for a deposition.
The Senate Special Committee on Aging said last week that it planned to start legal proceedings against J. Michael Pearson, who is leaving Valeant after months of turmoil for the drugmaker. Pearson is still under subpoena to appear before the committee for an April 27 hearing. The committee is planning its third hearing since December on soaring drug prices.
"The Board has requested Mr. Pearson's cooperation in connection with a subpoena for deposition from the Senate Committee on Aging prior to the Committee's scheduled April 27 hearing," Valeant said in a release Monday. "The Board understands that Mr. Pearson is in dialogue with the Senate Committee on Aging regarding his deposition and that those discussions are ongoing."
Valeant Pharmaceuticals International Inc. has built its business in part by buying rights to older drugs and then hiking their prices. The Canadian drugmaker faces three federal probes into its accounting and business practices.