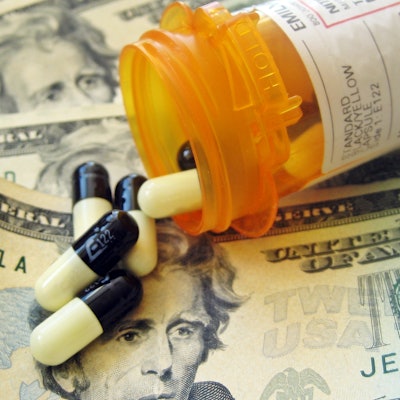 TRENTON, N.J. (AP) — The U.S. Food and Drug Administration on Monday approved a new type of drug that targets a subset of leukemia patients with a genetic abnormality that makes the cancer harder to treat.
Venclexta was approved for patients with chronic lymphocytic leukemia who relapsed or weren't helped by a prior treatment and are missing part of chromosome 17. The drug indirectly makes cancer cells die.
Chronic lymphocytic leukemia, one of the most common types of leukemia in adults, is incurable, so when patients relapse, they need to switch to another drug. In the U.S., about 15,000 new cases occur annually and an estimated 4,650 patients die of the disease each year. Venclexta is the first approved drug in a new class that targets a protein that boosts growth of cancer cells. The daily pill works by blocking that protein, helping restore a cell's ability to die naturally, whether it's a cancer cell or an old, normal cell.
Up to 10 percent of chronic lymphocytic leukemia patients not previously treated have the genetic abnormality targeted by the drug, called a "17p deletion." The abnormality is much more common in patients who have relapsed or not benefited from a prior treatment. Patients with the abnormality have a life expectancy of three years or less.
Venclexta, known chemically as venetoclax, was developed by partners AbbVie Inc. of North Chicago, Illinois, and Genentech, part of the Roche Group. It's manufactured by AbbVie, which will market the drug overseas and sell it together with Genentech in the U.S. The drug has a list price of $109,500 for the first year of treatment and slightly higher for subsequent years. Patients can get financial assistance to reduce co-payments to as low as $25.
Venclexta was tested in 106 patients with the abnormality, about 80 percent of whom had their cancer go into remission, at least partially. Those patients are still being followed. So far, the benefit from Venclexta has ranged from three months to 19 months in the study participants.
Serious side effects reported in patients include pneumonia, fever, low levels of infection-fighting white blood cells and abnormalities in metabolism. More common side effects include low levels of blood-clotting platelets, diarrhea, nausea, respiratory infections and fatigue.
Venclexta is awaiting approval in Europe. The FDA gave the drug multiple designations that hasten review and approval. It also received accelerated approval, so additional patient testing may be required.
The companies said the drug should be available for patients within a week.