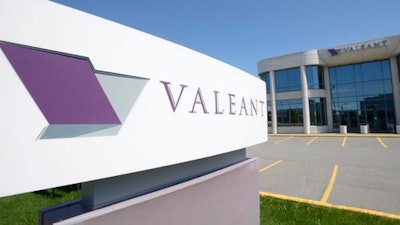 AP file
NEW YORK (AP) — Valeant will sell just over $2 billion in assets as it pays down debts after a year and a half of bruising backlash against some of its drug prices and government probes into the way it does business.
Shares of the Canadian pharmaceutical company, down 80 percent in the past year, jumped 12 percent before the opening bell.
The company said Tuesday that it would sell three skincare brands to L'Oréal for $1.3 billion. The three product lines, CeraVe, AcneFree and AMBI, generate about $168 million in annual revenue.
The announced sale comes a day after Valeant said it would sell Dendreon Pharmaceuticals Inc. to China's Sanpower Group Co. for about $820 million.
Valeant has been attempting to right itself since shares soared to an all-time high of around $264 per share on Aug. 6, 2015.
A week later, Congress was asking the company to justify aggressive price hikes for critical heart drugs. By the fall, it has been served with a federal subpoena after it was revealed that the company had raised prices on dozens of drugs by an average of 66 percent in that year alone.
The company's stock went into freefall. They hit rock bottom in December when a share of Valeant Pharmaceuticals International Inc. could be had for $13 after former executives were charged with running a fraud-and-kickback scheme that bilked the company out of millions.
The company said in November that sales growth, which had reached more than 35 percent in the third quarter of 2015, was negative 11 percent in the same quarter last year. Losses soared to $1.2 billion, the fourth consecutive quarter of losses, and its largest loss by far.
Valeant remains the target of multiple government probes, as well as shareholder lawsuits.
Shares rose $1.84 to $17.19 in premarket trading, almost a two-month high.