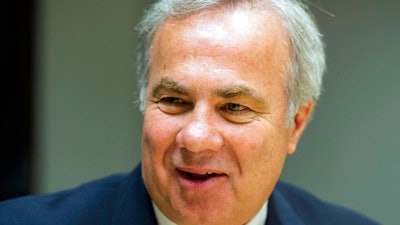 Ryan Remiorz/The Canadian Press via AP, File
NEW YORK (AP) — Valeant Pharmaceuticals, which came under heavy scrutiny for acquiring the rights to drugs and then drastically raising their prices, is changing its name.
The Canadian company said Tuesday that it will now be called Bausch Health Companies.
CEO Joseph Papa said in a prepared statement that the name change is "a major step forward" in the company's transformation.
Valeant Pharmaceuticals International Inc. fell into the crosshairs of Washington after an extended acquisition spree of other companies, followed by triple-digit price hikes on critical heart drugs and other medicines.
Its spate of acquisitions and soaring revenue propelled its stock through the roof, but it ran up a staggering $30 billion in debt — roughly three times its annual revenue.
Former CEO Michael Pearson, who formulated the strategy, was ousted in 2016.