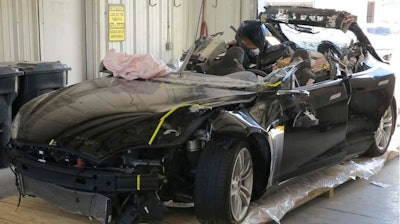 AP file
The National Transportation Safety Board says an inattentive driver's over reliance on his Tesla Model S sedan's semi-autonomous driving system and a truck driver who made a left-hand turn in front of the car are both to blame for a fatal crash last year
The board is recommending that automakers incorporate safeguards that limit the use of automated vehicle control systems to the conditions for which they were designed.
Tech company owner Joshua Brown of Canton, Ohio, was traveling on a divided highway near Gainesville, Florida, using the Tesla's automated driving systems when he was killed.
The NTSB says the collision is the first known fatal crash of a highway vehicle operating under automated control systems.