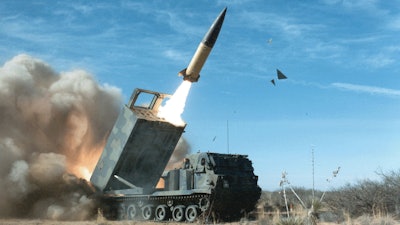 Lockheed Martin
Lockheed Martin's modernized Tactical Missile System (TACMS) missile continued its streak of successful flight tests with two recent flights at White Sands Missile Range, New Mexico. These tests represent the third and fourth consecutive successful trials of the modernized TACMS.
In December, a modernized TACMS successfully engaged and destroyed a target in a 71-kilometer test. And in early February, a fourth modernized TACMS destroyed a target at White Sands at a range of more than 200 kilometers. In both tests, the TACMS missiles were launched from a High Mobility Artillery Rocket System (HIMARS) launcher.
The missiles used in these two tests were produced at Lockheed Martin's Precision Fires Production Center of Excellence in Camden, Arkansas.
As part of the U.S. Army's TACMS Service Life Extension Program, the modernized missile includes new state-of-the-art guidance electronics and added capability to defeat area targets without leaving behind unexploded ordnance.
The TACMS modernization process disassembles and demilitarizes TACMS Block 1 and 1A submunition warheads, replacing them with new unitary warheads and bringing them into compliance with Department of Defense policy on cluster munitions and unintended harm to civilians.
The modernization process also resets the missile's 10+ year shelf life.
In December 2014, Lockheed Martin and the U.S. Army signed a $74 million contract to take existing TACMS missiles from inventory and modernize them.
The TACMS platform provides maximum flexibility to quickly integrate new payloads and capabilities to meet current and future demands.