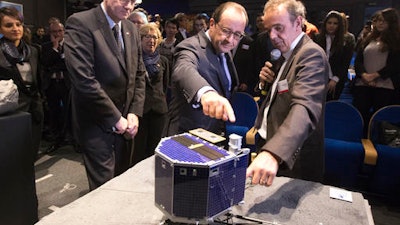 AP Photo/Jacques Brinon, Pool, file
BERLIN (AP) — The European Space Agency says it is switching off its radio link to the probe that landed on a comet, after receiving no signal from the lander for a year.
The agency says the decision to shut down a communications instrument on the Rosetta spacecraft Wednesday was taken to conserve energy.
Rosetta had used the instrument to communicate with its lander, Philae, which touched down on comet 67P/Churyumov-Gerasimenko in November 2014.
During the next two months, Rosetta will use its remaining power to conduct scientific measurements before it crash-lands on the comet Sept. 30.
Data collected by Rosetta and Philae have improved scientists' understanding of comets and the role they played in the early universe.