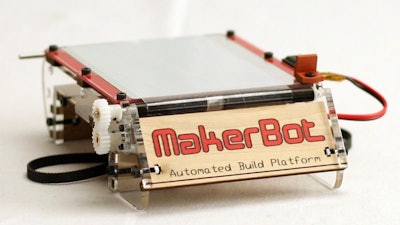 Following the progress of MakerBot, it is easy to be despondent about the whole desktop 3D printing industry. For a short time back in 2010, MakerBot was desktop 3D printing. Anyone who wanted a desktop 3D printer could buy a MakerBot kit or build a RepRap.
In April, MakerBot announced it would lay off its factory workers, outsourcing manufacturing to global contract manufacturer Jabil. MakerBot also announced the Replicator 2 would be closed source, after years of supporting the Open Source hardware movement. These announcements mad big waves within a small community, but it remains to be seen how much impact it will have on new customers.
A Slow Decline
Before 2013, MakerBot sold 40,550 printers. When Stratasys acquired MakerBot, an IDTechEx analyst wrote, Stratasys "may have paid a very high price for a quick foothold in an ultimately relatively small market with an increasing number of competitors. If MakerBot has sold out to the big corporate world in merging with Stratasys… it got a jolly good price indeed."
According to the Stratasys 2014 Annual Report, in that single year MakerBot sold nearly 40,000 printers. In 2015, they sold just 18,673. In April of 2015, MakerBot laid off 100 of its approximately 500 employees and in October laid off another 80. The MakerBot storefronts in New York City, Boston and Greenwich were all closed.
This was partly due to the poor reputation of the Smart Extruder on the 5th generation machines. Jonathon Jaglom, CEO of MakerBot, has said "86 percent of all failures of 5th gen MakerBots were with the extruder."
MakerBot reached total sales of 100,000 printers in April 2016. This equates to selling only 1,421 printers in the first four months of 2016.
When an industry leader is struggling, it is tempting to talk about market saturation or that technology hasn't spread past the early adopter enthusiasts. However, in the new report, 3D Printing 2016-2026, IDTechEx Research estimates that over 375,000 desktop thermoplastic extrusion printers were sold during 2015.
The Rise of China
In total, 300,000 3D printers were sold by the Taiwanese company, XYZPrinting. These sales dwarf the 100,000 cumulative sales by MakerBot. The Chinese government has pledged to put a 3D printer in every one of their 400,000 elementary schools.
These DaVinci printers are re-branded and distributed by tech giant Lenovo. It is an increasing trend that well-known household names, such as HP, Ricoh, Autodesk and Mattel, are entering the industry with considerably more brand power and marketing budget then has been seen in the industry so far.
The DaVinci printers are available from $450, compared to $2,000 for a MakerBot. At this low price, the technology has become available to many home users across Asia who previously could not afford it. So the average selling price of desktop 3D printing could continue to fall.
These printers are not only attractive to Asian customers, but are getting attention and recognition across Europe and America.
Users are required to buy all their filament through XYZPrinting. There is little, if any, profit to be made selling a $450 3D printer. However, now over 300,000 users are buying filament at about $29 for 600g, and will be locked in to buying more of that filament regardless of price hikes. This could stabilize the thermoplastic filament prices.
This is the beginning of a shift from Western companies manufacturing small numbers of 3D printers to consumer electronics manufacturing on a serious scale in Asia. This a standard pattern - new technologies are manufactured on a bigger scale at a cheaper price in Asia, and they become available to more of the global population. Unit sales grow, but prices crash.
Learn more about the new IDTechEx Research report "3D Printing 2016-2026" at www.IDTechEx.com/3d.
Rachel Gordon is a Technology Analyst for IDTechEx.