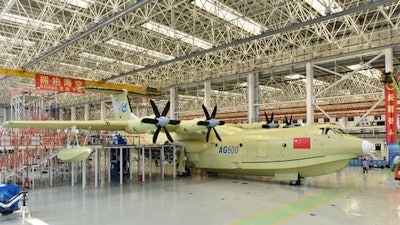 Xinhua/Liang Xu/Xinhua via AP
BEIJING (AP) — An official news agency says China has unveiled the world's largest amphibious aircraft that Beijing plans to use for marine missions and fighting forest fires.
The Xinhua News Agency said the AG600 rolled off a production line in Zhuhai in southern China on Saturday. It measures 37 meters (121 feet) in length with a wingspan of 39 meters (128 feet).
The report cites Chinese state aircraft maker, the Aviation Industry Corporation of China, as saying the plane is nearly as big as a Boeing 737.
Last week, a Cessna 208B seaplane making its inaugural flight in China crashed into a highway bridge outside Shanghai, killing five people on board.