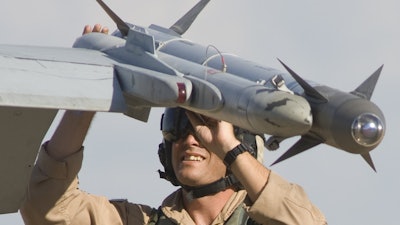 Raytheon
The U.S. Navy has awarded Raytheon a $291 million contract award for production of the AIM-9X Sidewinder missile, one of the most advanced infrared-tracking, short-range, air-to-air, and surface-to-air missiles in the world.
The contract is for All Up Round Tactical Full Rate Production Lot 16 of the Block II missiles for the U.S. Navy, Air Force, Army and the governments of Japan, Norway and Taiwan.
This contract modification also provides for the procurement of AIM-9X Block II Captive Air Training Missiles, containers and spare components for the U.S. Navy, and Air Force, as well as numerous U.S. allies.
Most of the work will take place in Tucson, and is expected to be complete by March 2019.
More About AIM-9X
AIM-9X is a U.S. Navy-led, joint Navy and U.S. Air Force program, with program offices in Patuxent River, Maryland, and Tucson, Arizona.
Raytheon has been producing AIM-9X missiles for more than 14 years.
AIM-9X entered operational service in 2003; international deliveries began in 2005.
AIM-9X Block II, which adds a datalink capability, successfully completed operational testing and began full-rate production in 2015.
The U.S. Navy declared initial operational capability with the Block II in March 2015.
The Block II will also be the baseline effector for the U.S. Army Indirect Fires Protection Capability, Increment 2- Intercept, making AIM-9X a true dual-use missile, effective in either air-to-air or surface-to-air applications without the need for modifications to the missile.
AIM-9X currently has 21 international customers. This includes nine original Block I customers, followed by 12 new and six repeat Block II customers. Block II deliveries to international customers will begin in 2016.
AIM-9X reliability for the currently fielded system has exceeded three times the required mean time between failures.