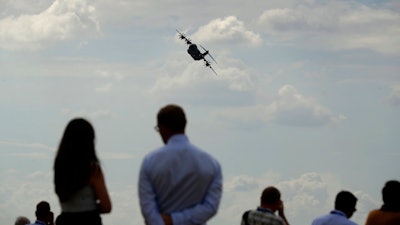 AP Photo/Matt Dunham
LONDON (AP) — U.S.-based defense contractor Raytheon says it remains committed to Britain amid the political turmoil surrounding the country's departure from the European Union.
John Harris, chief executive of Raytheon's international unit, told The Associated Press that the company, whose U.K. roots go back 100 years, sees opportunities for growth even as Britain's negotiations with the bloc drag on. Several other major firms, including Airbus and Jaguar Land Rover, have warned that the lack of certainty over Brexit could force them to leave, taking tens of thousands of jobs with them.
Harris says "we don't see any material negative impact with Brexit."
He says Raytheon, which employs more than 1,600 people in Britain, sees its presence as a "long play. We don't see it as an instantaneous short look."