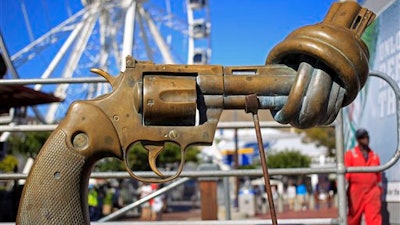 AP Photo/Schalk van Zuydam, file
STOCKHOLM (AP) — Carl Fredrik Reutersward, one of Sweden's best-known modern artists and the creator of the iconic statue of a revolver barrel tied in a knot, has died. He was 81.
Thomas Millroth, from the Carl Fredrik Reutersward Art Foundation, said the artist died in a hospital in Helsingborg, southwestern Sweden on Tuesday evening. No cause of death was given.
Reutersward, a painter and sculptor, who spent time in New York, was shocked by the 1980 shooting of John Lennon, inspiring him to create the gun statue which he called "Non Violence." One version of it sits outside the U.N. building in New York, with others in various cities around the world.
Daniel Birnbaum, director of Stockholm's Moderna Museet, said Wednesday Reutersward played a key role in establishing modern art in Sweden.