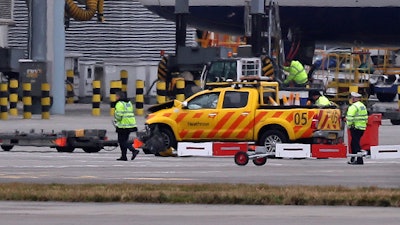 Steve Parsons/PA via AP
LONDON (AP) — Two airport vehicles collided on the airfield at London's Heathrow Airport on Wednesday, killing a British Airways engineer and injuring another man.
Police and the ambulance service said they were called just after 6 a.m. to a crash on the taxiway.
They said one man was taken to the hospital with a broken shoulder. The other man, in his 40s, went into cardiac arrest and died despite medics' attempts to resuscitate him.
British Airways said the dead man was one of its engineers. His name has not been released.
"We are deeply saddened by this tragic incident and are offering our full care and support to his family and colleagues," the airline said.
The airport said it was working with police to investigate the accident, which did not involve any passengers.
It said the airfield remained open and staff were working to keep the disruption to a minimum. British Airways reported delays to "a small number of our flights."