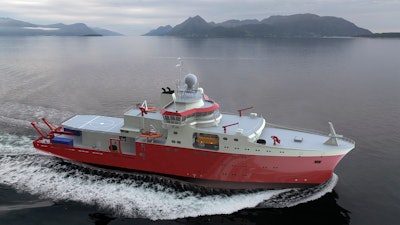 GE
The Antarctic remains one of the least understood and under-explored regions on our planet. It is also the most inhospitable and fragile.
When Peru announced that it soon would join the countries taking part in research activities there, it was crucial that their research vessel currently under construction be among the most reliable and efficient while having the smallest environmental impact possible.
To accomplish this feat, Freire Shipyard turned to GE to provide a suite of marine solutions including the electric power and propulsion system coupled with SeaStream Dynamic Positioning (DP) and automation system.
The vessel is being built in Vigo at the Freire Shipyard that specializes in building research vessels and with which GE has had a long-standing relationship. Once ready, this vessel will be used by the Peruvian Navy to carry out research in the Polar Regions.
GE's Marine Solutions business' experience in the marine industry means it is able to address technical challenges while simultaneously bringing the best value to the shipyard and the Peruvian Navy. One vital element required by the Navy is a lower underwater noise. Thanks to an anti-vibration motor, the electric propulsion system will help meet the DNV GL's maritime Silent-A Class notation, crucial in enabling the vessel to perform research tasks effectively.
GE's Marine Solutions business' low-voltage electric propulsion system – including generators, switchboard, MV3000 variable frequency drives and motors – is known for its fuel efficiency and its high redundancy rate. GE will also provide its high technology art SeaStream DP and automation solution to complete the package.
The low-voltage electric propulsion system, together with GE's SeaStream DP, will allow for further reduction in fuel consumption. GE's electrical solution allows systems to stand by, which results in lower fuel consumption and ultimately can help to reduce cost significantly.
The system can be upgraded with remote diagnostic systems if needed in the future.
In providing solutions to the Peruvian Navy, GE is successfully building upon the experience it has gathered from providing similar solutions to, among others, the Department of Environmental Affairs of South Africa and from its participation in building "Pourquoi Pas," the French research vessel.