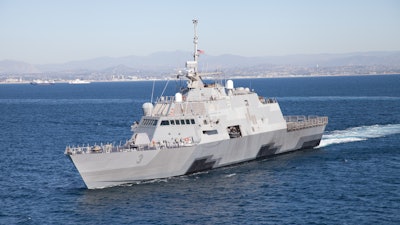 The U.S. Navy has awarded Lockheed Martin a contract for one fully funded Freedom-class Littoral Combat Ship (LCS). The contract award includes funding for seaframe construction, systems integration and testing.
Leveraging savings from its block buy contract, the U.S. Navy exercised an option to build an additional Freedom-class LCS. The LCS 25 will be the 11th ship procured under the 2010 block buy contract and the 13th Freedom-class variant overall. LCS 25 is scheduled to be delivered to the Navy in 2020.
Under the current 10-ship block buy, costs per ship have dropped significantly to half the cost of the first ships of class and two ships per year are being delivered to the Navy.
The Lockheed Martin-led industry team is currently in full-rate production of the Freedom-class variant, and has delivered three ships to the U.S. Navy to date. There are seven ships in various stages of construction at Fincantieri Marinette Marine, with three more in long-lead production.
The LCS's modular design and affordable price achieves increased capacity and capability so the Navy can provide presence where and when needed. USS Freedom and USS Fort Worth have demonstrated the Freedom-variant's value to the fleet with two successful operational deployments to Southeast Asia, sailing more than 180,000 combined nautical miles since delivery.
The Freedom-variant's steel monohull design is based on a proven, survivable design recognized for its stability and reliability. With 40 percent reconfigurable shipboard space, the hull is ideally suited to accommodate additional lethality and survivability upgrades.
Fincantieri Marinette Marine is building the Freedom-class Littoral Combat Ship in Marinette, Wisconsin, with naval architect Gibbs & Cox of Arlington, Virginia providing engineering support. The industry team invested over $100 million to modernize the Fincantieri Marinette Marine shipyard, hire additional staff and train a new workforce.