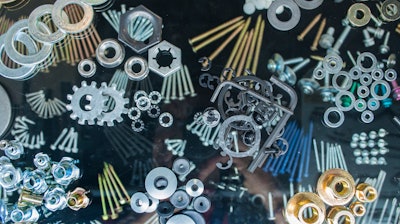 Fastener Fair USA is the only fastener and fixing event held in the United States for the full supply chain. Held at the Huntington Convention Center in Cleveland, OH on April 11-12, 2018, the event brings together manufacturers, distributors, suppliers and end users in the only dedicated fastener, fixing and joining technology exhibition.
The show offers a first-hand look at the latest solutions and technology available in the marketplace, and offers educational programs developed and delivered by industry experts.
The two-day affair also includes several networking events to facilitate relationships and collaborations with industry peers. The highlight will be a welcome reception on April 11, 2018 at the Rock and Roll Hall of Fame.
To learn a little bit more about Fastener Fair, IEN recently talked to Jessica Boweak, Fastener Fair USA's Exhibition Manager, and Melissa Magestro, Executive Vice President of Mack Brooks Exhibitions, an international exhibition and trade show organization.
IEN: What is Fastener Fair?
Melissa Magestro: Fastener Fair is recognized around the world as the leading exhibition in industrial fastener and fixing technology, and has built a strong following with exhibitors and attendees alike.
Mack Brooks Exhibitions owns and organizes eight Fastener Fairs globally, as well as the well-respected Fastener + Fixing magazine. When looking at introducing Fastener Fair to the U.S. market, we focused on two main objectives: meeting the needs of a growing market place and providing a platform for the entire fastener supply chain.
IEN: Who goes to the show?
Jessica Boweak: Mechanical engineers, product designers, purchasers and R&D personnel from several industrial sectors, including:
Automotive
Aerospace
Agriculture and construction equipment OEMs
Home appliances
Consumer electronics
Furniture
Wind power
Oil and gas
Power transmission/hydraulic/pneumatic
On-and-off highway equipment
The show provides them with a unique opportunity to collaborate with exhibitors on solutions for their business as well as get the latest industry information, forecasts and technical education through keynote sessions and breakouts.
IEN: What type of exhibitor will I find at the show?
Boweak: Exhibitors from around the world. The main product categories that exhibitors represent include:
Industrial fasteners and fixings
Construction fixings
Assembly and installation systems
Fastener manufacturing technology
Storage, distribution and factory equipment
Information, communication and services
Fastener Production Machinery, Tool & Die and Supplies
The exhibitor results have been strong to date, necessitating more space on the floor to accommodate the demand.
Some of the companies that have committed to exhibit at the show include Intools, Carlos Salvi, Brighton Best International, Rotor Clip, Dorken MKS-System, TR Fastening, SACMA, Buckeye Fasteners, Vogelsang Fastener Solutions, Aluminum Fastener Supply Co., Wrentham Tool, Tramec-Continental-Aero, Lindstrom Fasteners, Easylink Industrial Company and the Phillips Screw Company.
IEN: What is the outlook of the fastener industry, both in the U.S. and across the globe?
Boweak: The U.S. market for industrial fasteners continues to be strong even as the surge in demand slows following the recovery-fueled boom from 2010-2015, according to a study on Industrial Fasteners by The Freedonia Group, published in May 2016.
Overall, forecasts for GDP growth remain steady through 2020, and industrial manufacturing within the U.S. continues to be strong. According to that same study, the U.S. market for industrial fasteners is expected to increase 2.6 percent per year to $15.2 billion in 2020. Demand for fasteners is expected to be higher in the construction and aerospace markets.
U.S. manufacturers therefore have a need to discover the latest in fastener, fixing and joining solutions for their product design initiatives.
IEN: Why is it important to stay informed on new fastener trends and technology? Hasn't it pretty much stayed the same over the years?
Magestro: There are new opportunities in markets that many fastener and fixing manufacturers may not have realized. We hope to provide education, access to solutions, and access to new customers for exhibitors and attendees.
The idea to bring Fastener Fair to the U.S. market originated within the fastener industry. The U.S. manufacturing community is expanding and is optimistic about future economic growth. There is an increased need to find new technologies and suppliers in the U.S., and fastener OEMs and distributors are looking for a platform to showcase their solutions.
Industrial fastener and joining technology is a critical component to most manufacturing operations and we are pleased to be providing the platform for OEM's to meet with engineers and distributors in a central location.
IEN: What is the one reason that industrial professionals and design engineers should attend Fastener Fair?
Magestro: It's hard to just give one – it's the latest technology and solutions all in one place. We plan to offer broad-ranging educational sessions for all levels of experience, industry focus, and visitor segments. The Fastener Training Institute will also be in Cleveland for the show.
The exhibition provides sales, marketing and networking opportunities for the full fastener supply chain – including OEMs, distributors, wholesalers, suppliers, design engineers and purchasers. It's a model that is new to the U.S. market, but one that has been successful for Mack Brooks around the world for many years.
For more information, visit http://www.fastenerfair.com/usa/.