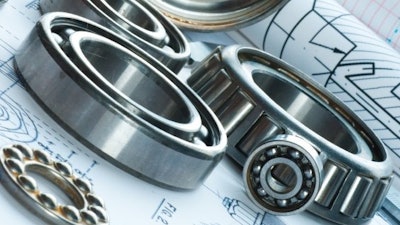 When working with any new design, finding the right bearing is critical to overall project success.
To help designers and engineers find the perfect ball bearing for their unique applications, the team at Emerson Bearing has outlined a few important aspects to keep in mind during the selection process.
Envelope Dimensions
Ball bearing costs will be significantly higher if initial envelope dimensions are not carefully considered during the design phase. All envelopes must be able to efficiently accommodate the bearing's shaft and housing requirements. In fact, it's often most cost-effective to craft the housing and shaft around a pre-engineered bearing size rather than vice versa.
Axial & Radial Loads
The loads handled by a bearing can greatly affect day-to-day performance and therefore must be carefully evaluated during the selection process. Radial loads act perpendicularly, or at a right angle to a shaft, along the bearing's axis of rotation. The thrust, or axial load, acts parallel to this axis. If these loads are offset from the radial plane or bearing axis, they create an additional load: the moment load.
Speed Requirements
Bearing speed limits, or thermal limits, set the maximum allowable rotational speed. Every individual bearing has particular speed limits, all determined from empirical data collected across a range of standard applications.
When evaluating speed requirements and limits, remember that a bearing's high-speed performance is impacted by the type of lubrication (or lack thereof) applied to the design.
Lubrication Function & Key Criteria
Careful lubrication prolongs and enhances the service life of any bearing. However, too much or too little grease, unintentional opportunity for contamination, and mixed lubricants can all harm bearing performance. It's also important to consider "grease service life," the amount of time a bearing can function optimally between lubrications.
Engineers generally have an idea of what components they'll need, but performance challenges can arise in both old and new projects alike, forcing teams back to the drawing board to evaluate operations and incurring added costs and delays.
When closely examining a project's individual components — particularly bearings — it's not uncommon to find that operational issues arise from simple functions that were overlooked during the design phase.
By paying careful attention to selecting the right type of bearing, engineers can optimize accuracy and improve both efficiency and the overall life of a design.
For more insight on bearing design considerations or for help in selecting the ideal bearing for your next project, visit http://www.emersonbearing.com/contact/.