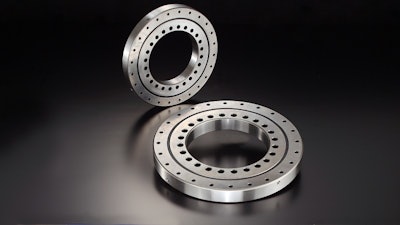 IKO International
IKO International's (Parsippany, NJ) CRBF Crossed Roller Bearings feature a space-saving design, with rollers alternately crossed at right angles between inseparable inner and outer rings. The bearings will be on display at IMTS 2016 in Chicago IL at booth E-4752. The CRBF bearings feature:
Rollers that make inline contact with the raceway surfaces, so elastic deformation under load is minimal. The ability to simultaneously accommodate loads from all directions, including radial, axial and moment loads.
Numerous mounting holes on both the inner and outer rings, enabling mounting without the need for special housings and fixing plates.
A roller guidance system that incorporates special separators between cylindrical rollers, allowing smooth and high-speed rotation.
Low rotational torque, so the difference between static and dynamic torque capacities is small.
Lower power consumption and reduced operating temperature rise
Basic dynamic load ratings that range from 2,910 to 84,300 N.
An operating temperature ranges from -20° to +110° C.
Applicability in industrial robots, machine tools, medical equipment and other machinery requiring high rigidity and accuracy in a compact footprint.
For more information, visit: http://ikont.com/rotary-bearings/crossed-roller-bearings.