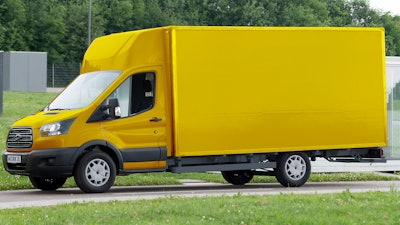 Ford
Ford-Werke GmbH has partnered with StreetScooter GmbH to manufacture battery-electric delivery vehicles.
Deutsche Post (StreetScooter's parent company) has already left its mark in the smaller van segment by designing and producing the emission-free StreetScooter. The partnership hopes to yield a larger vehicle type.
The Ford Transit chassis provides the technical basis. It will be equipped with a battery-electric drive train and fitted with a special body construction based on Deutsche Post and DHL Paket specifications.
Production is scheduled for July 2017, and before the end of 2018 at least 2,500 vehicles will support the urban delivery traffic of Deutsche Post DHL Group. With this volume, the joint project will become the largest manufacturer of battery-electric medium-duty delivery vehicles in Europe, according to the company.
In addition to the new assembly line, the existing manufacturing of the StreetScooter models will be significantly expanded. StreetScooter plans to manufacture 20,000 units per year of their successful small electrical delivery van in different versions.
Today, there are already 2,500 StreetScooters in use throughout Germany.