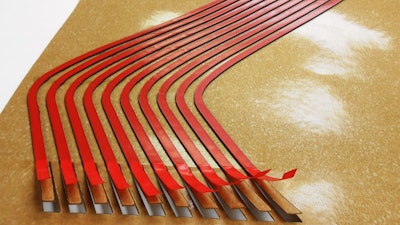 When choosing an adhesive for a material bonding project, several factors must be taken into consideration to ensure proper product functioning and optimal performance.
To pinpoint the best adhesive solution for your project, third-party vendors will ask you to provide application-specific information and requirements. To reduce downtime and facilitate a smoother, more cost-effective selection process, it's important to have this information on hand before you meet with an adhesive manufacturer.
To get a better idea of how to prepare, we've outlined some of the most common questions asked by adhesive bonding manufacturers.
What materials are you bonding?
Adhesive solutions can be specifically catered to meet the unique needs of your bonding materials.
When discussing the materials you will be bonding, be as specific as possible. Simply stating "stainless steel" or "plastic" won't be of much help, as there are dozens of varieties of stainless steel and hundreds of varieties of plastic, each with their own unique characteristics.
Adhesive materials that are very effective at bonding polypropylene components to other polypropylene components, for instance, will not necessarily perform the same way when bonding to acrylonitrile butadiene styrene (ABS).
Also, adding surface treatments or bonding disparate materials — a plastic to a metal, for instance — may necessitate unique adhesive requirements, as will material surface type, which not only dictates the type of adhesive used but also the amount. (In general, acrylic adhesives are used for high-surface-energy materials, while rubber-based adhesives are used for low-surface-energy materials.) Having detailed material information on hand will help ensure a quick, efficient process.
What stresses will be applied to the adhesive?
As with different varieties of plastic or metal, different adhesive materials react in different ways when subjected to different forms of stress. If your part is going to be put under a particular type of stress, the adhesive bonding will therefore also be placed under that stress.Your manufacturer should be made aware of this in order to properly meet your application's unique needs.
Cleavage, peel, shear, and tensile stresses are four of the most common stresses. Anticipating the stresses your adhesive will encounter — as well as how strong they will be, whether they are sustained or repetitive, and so on — will help you narrow down your list of material bonding options.
What are the dimensions of the bonding area?
This question seems simple enough. Rectangular surface areas have X and Y axes, circles have a circumference and diameter, and so on. However, several dimensional factors must be taken into consideration in order to ensure proper adhesive selection.
The Z axis — how thick a layer of adhesive your part can accommodate — is one of the most important factors to keep in mind; your part may be able to function with a very thick layer, or it may have a restrictive maximum that has to be maintained. Geometric complexities should also be taken into account, as parts may feature varied surfaces or unique shapes. And be sure to ascertain whether any areas of the surface must remain free of adhesive. Having a clear understanding of all dimensional factors will ensure a simple adhesive selection process.
Learn More
In addition to the factors outlined above, several other part considerations should also be taken into account, including aesthetic requirements, product longevity, end use, and bond permanency.
A reliable adhesives manufacturer will have years of proven experience and a reliable, concrete timeline for your project.
For more than 60 years, CGR Products has supplied adhesive products — including rubber and acrylic adhesives — for a range of industries.
To ensure you're fully prepared to embark on your next adhesive project, download CGR's Products' "Adhesive Materials Checklist: What to Know When Bonding Rubber Adhesives."