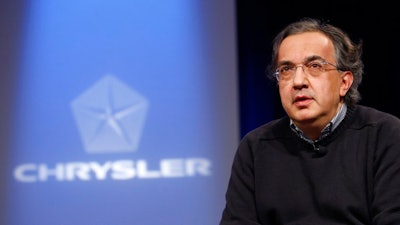 AP Photo/Carlos Osorio, file
MILAN (AP) — Fiat Chrysler Automobiles founding CEO Sergio Marchionne had been undergoing treatment for a "serious illness" for more than a year at Zurich University Hospital, where he died, the hospital said Thursday.
Marchionne had received cutting-edge treatment, the hospital said in a statement, adding "we deeply regret his death and express our deepest condolences to the family." It did not elaborate on the nature of the illness or the treatment, and said it had issued the statement in response to rumors about Marchionne's treatment.
Fiat Chrysler said it could not comment on the hospital's statement due to privacy laws. It added that the company "had no knowledge of the facts relating to Mr. Marchionne's health" beyond the surgery on his right shoulder that was previously disclosed.
The company said it was first made aware last Friday that the 66-year-old Marchionne's health had seriously deteriorated and that he would not be able to return to work. The next day the board named a new CEO, Mike Manley.
The Italian news agency ANSA has reported that the cause of death had been heart failure, with one episode landing him in intensive care during his recovery from surgery and a second causing his death. Fiat Chrysler declined to comment on that report.
Marchionne was due to hand over the CEO reins next year anyway, but that transition was accelerated by the sudden deterioration in his health. He also was replaced as CEO of the Ferrari sports car company and as chairman of CNH industrial.