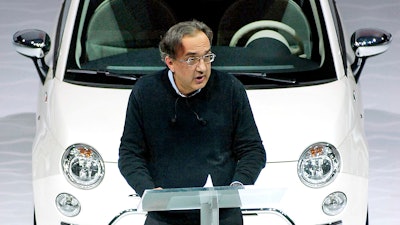 AP Photo/Massimo Pinca, file
MILAN (AP) — Sergio Marchionne, the founding CEO of Fiat Chrysler Automobiles who died Wednesday, was widely recognized as an industry leader. Here's a look at some of his biggest accomplishments.
Creating Value: Since taking over Fiat in 2004, Marchionne has increased the company's market value more than tenfold. Fiat's share price rose from $1.64 to as much as $23.40 this year. That increase reflects the takeover of Chrysler but also the spinoff of key units, like Ferrari.
Getting Cash from GM: The move that made Marchionne's name as a dealmaker was getting General Motors to pay $2 billion in 2005 to sever ties with Fiat. The two companies had had a legal contract by which Fiat could have forced GM to buy out the company. GM was afraid of taking on Fiat's debt. So Marchionne convinced it to pay the divorce fee instead — money that helped Fiat get back on its feet.
Buying Chrysler for Nothing: In 2009, as CEO of Fiat, Marchionne struck an agreement to take over Chrysler without putting down a penny. In exchange, it offered its small-car technology, which Chrysler had been lacking. That saved Chrysler from liquidation and since then it has become the profit-leader in Fiat Chrysler Automobiles.
Spinoffs: Marchionne unlocked wealth by spinning off subsidiaries, above all the sports car and racing unit Ferrari and the construction vehicles manufacturer CNH. Ferrari is now worth $32 billion and CNH about $21 billion.