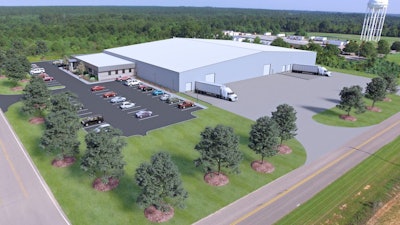 Kaishan Group
LOXLEY, Ala. (AP) — A company will be building an air compressor plant in southern Alabama.
Al.com reports that Kaishan Group is making an $11 million capital investment in the facility to open an estimated 62 jobs at the company. A groundbreaking was held this week for the plant that will serve as its U.S. corporate headquarters and manufacturing plant. 
The building will enclose about 65,000-square feet (6039-square-meters). The incentives offered by the state, county and city, including tax abatements will likely total more than $1 million. 
Completion of the plant is expected in 2019. 
"Kaishan is proud to locate its corporate headquarters to Loxley, where we can better serve the North American market with locally produced goods and services," said Keith Schumacher, CEO of Kaishan Compressor USA. 
Schumacher that the company had thus far had "very little penetration into the U.S. market." 
"This is a beachhead for both North and South America. So this is a big opportunity for the area," he added. 
Schumacher said that compressors will be assembled at the plant, but it also will include a precision machining and grinding unit. 
In 2017 announcement, the company described itself as China's No. 1 air compressor company and said that new acquisitions were helping it go worldwide. It also has described itself as the world's third-largest manufacturer of air compressors. 
"Estimated tax savings are approximately $45,000 in the first year, with slightly decreasing value in years 2-10 due to depreciation," said Alex Doleac, project manager at the Baldwin County Economic Development Alliance. "In addition, there is an estimated one-time savings of $160,000 in sales and use taxes." 
Kevin Cao, president of Kaishan Group, said the expansion will broaden the company's global footprint. 
It will provide "access to a market that seeks high quality, durable, and energy efficient products," he said. "This project allows Kaishan to better meet the needs of our North American customers."