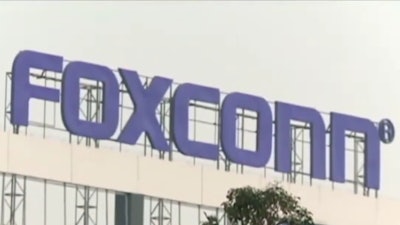 MILWAUKEE, Wis. (AP) — A new analysis from a Wisconsin business group says Foxconn Technology Group's manufacturing plant would add about $51 billion to the state's gross domestic product over the 15 years the state pays the company incentives.
The Metropolitan Milwaukee Association of Commerce's estimates average out to an additional $3.4 billion in state gross domestic product annually, the Milwaukee Journal Sentinel reported. That would add 1 percent to the state's current GDP of approximately $313 billion.
The state's GDP has grown about 3.6 percent a year since the recession.
Association President Tim Sheehy said GDP illustrates "the economic health or wealth" of an area. It represents the market value of goods and services produced by the labor and property located in a place, according to the U.S. Bureau of Economic Analysis.
"We did the study primarily because we believe in the back and forth on this project that we've lost sight of the tremendous economic impact that can come from this project, and that it's been so narrowly cast," he said.
The association's estimate is conservative, since the company will continue to boost the state's GDP after the tax revenue it generates repays the state incentives, Sheehy said.
Foxconn had consulting firm Ernst and Young create a report last year that estimated the company would add $5.2 billion to Wisconsin's GDP annually. But The Wisconsin Economic Development Corp. hired consultant Baker Tilly Virchow Krause to examine the report and concluded that Ernst and Young had overestimated the number of jobs the plant would generate.
The $10 billion manufacturing center in Racine County could employ up to 13,000 workers. The company could receive as much as $3.8 billion in state and local incentives.