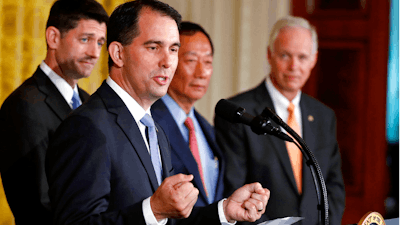 AP file
MADISON, Wis. (AP) — Luring a new Foxconn factory will cost Wisconsin more than eight times as much per job as other job-creation deals in the past year, according to a newspaper analysis.
The Taiwanese company is receiving more than $200,000 in state taxpayer money per job, the Milwaukee Journal Sentinel reported . Foxconn's incentive package is more than three times as much per job as the next most costly deal.
"Around the country, you just generally don't see offers this high," said Tim Bartik, an independent economist who studies economic development. "It's very, very high."
Wisconsin is also waiving $150 million in sales tax for the company. The state will pay the company up to $2.85 billion in tax credits if it creates 13,000 jobs and invests $9 billion in the plant in Racine County.
Foxconn's tax credits accounted for 96 percent of the credits the state awarded in 2017, though the company will only produce 44 percent of the jobs.
Foxconn could also receive lower electric rates, money for roads and worker training, and up to $764 million in incentives from Racine County and Mount Pleasant.
The deal makes sense because Foxconn will create a new cluster of technology companies that will transform the state's economy, state officials said.
"The state recognized the once-in-a-generation opportunity presented by Foxconn is unlike that of any other project in the state's history as Foxconn is bringing the future of electronics manufacturing to Wisconsin with the first LCD manufacturing facility outside of Asia," said Mark Maley, spokesman for the Wisconsin Economic Development Corp.
Senate Minority Leader Jennifer Shilling, a La Crosse Democrat, said too much money is being sent to a foreign corporation when the focus should be on local businesses, schools and roads.
Information from: Milwaukee Journal Sentinel, https://www.jsonline.com/