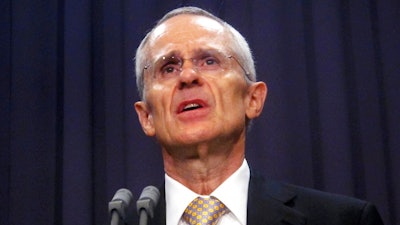 AP Photo/Rod McGuirk
CANBERRA, Australia (AP) — Australia on Wednesday issued a compulsory recall for all 2.7 million cars fitted with defective Takata air bags in an effort to lift the auto industry's mixed efforts to fix the fault blamed for at least 23 deaths around the world.
Vehicle suppliers must recall and replace all the air bags in Australia by the end of 2020, with priority given to the most dangerous because of their design, age or the level of humidity in their environment, Assistant Minister to the Treasurer Michael Sukkar said.
"Tragically there has been one death and one case of serious injury in Australia as a result of the deployment of these air bags and the government just doesn't want to see any more," Sukkar told reporters.
Takata's air bag problem has resulted in 100 million recalls worldwide and forced the Japanese company into bankruptcy protection. The Australian government said at least 23 deaths and more than 230 serious injuries had been associated with the air bag defects.
Sukkar said the problem was considered acute in northern Australia due to its humid and hot climate. Such conditions are a known factor in the air bag's dangers and the deaths have occurred mainly in the summer in the southern United States and in tropical Malaysia.
The chemical propellant in the air bag inflators can deteriorate in hot, humid conditions and burn too fast, blowing apart a metal canister and creating shrapnel.
While some manufacturers had recalled more than 80 percent of the air bags in Australia, some were as low as 36 percent.
Globally, many manufacturers have been slow to replace the potentially deadly inflators. A report by an independent monitor said that as of Sept. 15, 2017, automakers had replaced only 43 percent since Takata recalls began in 2001.
Under the compulsory recall order, the government will be able to name manufacturers who are falling behind from July. Failure to comply with the order carries a potential fine of 1.1 million Australian dollars ($860,000) per breach.
"One of the concerns has been the divergence we've seen among manufacturers as to how actively they've sought to notify ... consumers with potential problems with their air bags," Sukkar said.
"As far as reluctance goes, again it's been very much a mixed bag. If you look at some of the manufacturers, they really use best endeavors. There are other manufacturers who didn't show the same diligence," he added.
Rod Sims, chairman of the Australian Competition and Consumer Commission, the consumer watchdog that recommended the recall, said some manufacturers within the voluntary recall have done a bad job.
"They've been slow to communicate, slow to get the parts in and slow to replace air bags and sometimes said things to consumers that were unfortunate, like: 'Come back in a year's time and, by the way, in the meantime don't drive the car,'" Sims said.
National Roads and Motorists' Association spokesman Peter Khoury, an Australian motorists advocate, said the compulsory recall was long overdue.
"This recall has been going on for a number of years, it's clearly too long and it is absolutely vital that we get these car fixed by the deadline set by the Australian government at the end of 2020, but certainly preferably well before that," Khoury said .
"It has absolutely taken far too long to reach this stage. When you have air bags killing people globally, that is something that needs to be addressed immediately," he added.