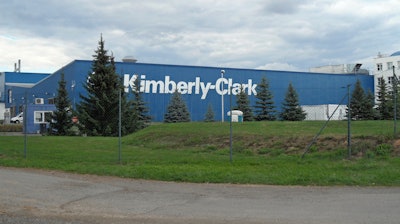 Wikipedia
MADISON, Wis. (AP) — Gov. Scott Walker said Wednesday that proposed job-retention tax credits for consumer products giant Kimberly-Clark Corp. could be extended to other paper companies if there are "significant opportunities" to retain and add jobs.
Walker wants the Legislature to approve increasing job-retention tax credits from 7 percent of payroll to 17 percent to entice Kimberly-Clark not to close a pair of factories in the Neenah area and eliminate about 600 jobs.
Walker said he knows that deal, modeled after a nearly $3 billion incentive package for Tawainese company Foxconn Technology Group, could lead to other companies seeking the same benefit. But he also said he would be open to that for other paper companies if it would save a high number of jobs.
"We'd be willing to match for keeping these jobs at Kimberly-Clark and, for that matter, other major paper companies in the state, if you're talking about significant opportunities to keep and grow jobs in the state," Walker told reporters. "We're willing to do that, but we want it based on jobs."
Republican legislative leaders said earlier Wednesday they were awaiting more details about Walker's proposal for Kimberly-Clark and they did not know if it would pass. The company has said it did not seek the incentives.
Democrat Tom Nelson, the Outagamie County executive, criticized Walker for not creating a $30 million loan fund to help the paper industry. Nelson said he had pitched the idea to Walker last year but was rebuffed.
Nelson said he's been warning Walker that the paper industry in the Fox Valley has been suffering. Appleton Coated, Appvion and U.S. Paper Convertors, which closed in December, shed more than 850 jobs in the last year.
Walker dismissed Nelson's offer to create the paper fund, saying he was out to score political points by putting out a press release rather than reaching out and meeting with him and others who could get something done.
Walker also said the job-retention incentive he's proposing is better than loans because it's tied to keeping and growing jobs.
Also on Wednesday, Democratic U.S. Sen. Tammy Baldwin sent Kimberly-Clark's board of directors a letter accusing company executives of using state and federal corporate tax cuts to enrich themselves and shareholders.
"I ask that you consider that the best solution for Wisconsin workers and taxpayers is for you to reward workers instead of the wealth of executives and shareholders," she wrote.
In response, company spokesman Terry Balluck said Kimberly-Clark stands by its earlier statement that it did not seek the tax incentives Walker is proposing.
Dallas-based Kimberly Clark, which makes Kleenex tissue, Huggies diapers and other paper products, announced its plans last week to close the factories in Neenah and nearby Fox Crossing. The move is part of Kimberly-Clark's plans to cut between 5,000 and 5,500 jobs and close or sell about 10 manufacturing facilities.