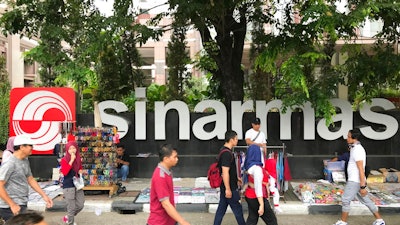 AP file
BANGKOK (AP) — The main global group for certifying sustainable wood has sent a "come clean" ultimatum to one of the world's largest paper companies and its billionaire Indonesian family owners following evidence it continues to cut down tropical forests and operate through corporate proxies.
A May 28 letter from the Forest Stewardship Council seen Wednesday by The Associated Press makes four demands of Sinarmas and the Widjaja family that it insists must be met within days.
The conglomerate's years long effort to be readmitted to the council, whose stylized tree mark is an influential endorsement in the global marketplace, could be completely undone if it doesn't comply. It was expelled in 2007 for extensive destruction of Indonesia's rainforests.
The ultimatum comes after Greenpeace earlier this month ended a five-year truce with Sinarmas, citing an AP investigation into its opaque corporate structure and accusing it of destroying tropical forests during the entire time the two were cooperating on conservation. Sinarmas founder Eka Tjipta Widjaja and his family control a $9 billion fortune amassed from paper, palm oil, real estate and other businesses, according to Forbes.
The forest council's letter to the Asia Pulp & Paper arm of the Sinarmas conglomerate said it requires a "demonstration of the highest level of commitment by the Widjaja family" to the council's standards, which include protection of natural forests and human rights.
It demands a "high level, official and public announcement" of that commitment by Monday; proposed remedies to Greenpeace's evidence of deforestation, also by Monday; a full disclosure by June 11 of Asia Pulp & Paper's corporate structure including its wood suppliers, shell companies and offshore companies and their true ownership; and disclosure by June 11 of any other violations of the council's standards.
Asia Pulp & Paper had no immediate comment. It said it won't be able to comment on the letter unless FSC agrees. The council didn't immediately respond to a request for comment.
Indonesia's rainforests, among the world's largest, are an important buffer against global warming and a haven for a staggering diversity of wildlife including critically endangered orangutans, tigers and rhinos. But they are being cleared faster than in any other country, swelling the profits of paper and palm oil conglomerates while causing chronic social and environmental problems. Rapid forest loss and greenhouse gas emissions have made Indonesia the fourth biggest contributor to global warming after China, the U.S. and India.
The country's emissions soared in 2015 when record dry season fires, worsened by draining of swampy peatland forests for plantations and El Nino weather conditions, burned 10,000 square miles (25,900 square kilometers) of plantations and forests. The smoke blanketed much of Indonesia, Singapore, Malaysia and southern Thailand in health-damaging haze.
Greenpeace 's investigation, which included analysis of satellite imagery, showed that two companies connected to Sinarmas cleared almost 8,000 hectares (19,770 acres) of forest and peatland on Borneo during the five years it was advising the conglomerate on forest conservation. Its Asia Pulp & Paper arm acknowledged that employees had been shareholders of one of the plantation companies. Sinarmas' direct ownership of the second plantation company named by Greenpeace is a matter of public record.
The investigation followed AP stories in December that found extensive links between Sinarmas, its pulp and paper and forestry arms and nearly all the 27 plantation wood suppliers it had told the outside world were independent, apparently trying to greenwash its image. Most of the wood suppliers were based in Sinarmas offices and owned by employees of the Sinarmas group and in some cases former employees.
Separately, a group of 13 global and Indonesian environmental and civil society organizations including WWF and Indonesia Corruption Watch on Wednesday released a report of their own investigation into the ownership of Sinarmas wood suppliers, which found they are largely owned by current and former employees of the conglomerate.
It also said Sinarmas controls sizeable land that wasn't included in the zero deforestation commitment made by its Asia Pulp & Paper and Sinarmas Forestry arms in 2013 as part of the agreement with Greenpeace.
The Bonn, Germany-based forest council's letter said the "pattern of using corporate proxies to control operations without legal ownership is very alarming."
The letter said "these proxies and agents are considered directly linked" to the Sinarmas empire, which will be held "responsible for remedying violations committed by these proxies."