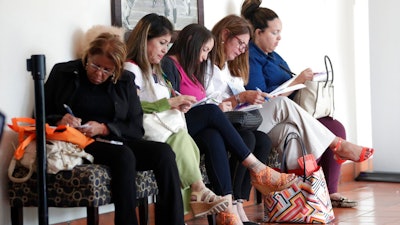 AP Photo/Lynne Sladky
WASHINGTON (AP) — U.S. companies posted the fewest open jobs in seven months in December, yet the number of Americans quitting their jobs rose to a 17-year high, a mixed reading on the job market.
The Labor Department said Tuesday that job openings dropped 2.8 percent to 5.8 million. That's still a healthy level and up 4.9 percent from a year earlier. The number of people quitting rose 3.1 percent to 3.26 million, the most since January 2001.
More quits are generally a positive sign for the economy, because most Americans leave their jobs when they already have another position, typically at higher pay, or are confident they can find one. The figure suggests companies, which are desperate for workers, are offering bigger salaries to lure people away from their current jobs.
On Friday, the government reported that hourly pay rose in January from a year earlier at the fastest pace in eight years. Employers also added a healthy 200,000 jobs and the unemployment rate remained at a low 4.1 percent for the fourth month.
That report helped send stock prices tumbling Friday and Monday, as investors worried that stronger pay gains could lead to higher inflation. That, in turn, could lead the Federal Reserve to lift short-term interest rates more quickly than planned, potentially slowing growth.
Still, inflation for now remains below the Federal Reserve's 2 percent target and has stayed there for six years.
The decline in job openings, meanwhile, could slow hiring in the coming months. Openings have declined 5.9 percent since reaching a record high of 6.18 million in August.
Openings dropped sharply in construction, manufacturing, retail, and professional and business services, a category that includes highly-paid work such as engineering and legal services. They rose in restaurants and hotels and health care.