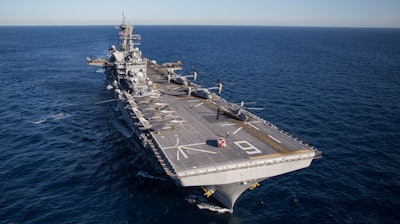 Photo: U.S. Navy
SAN DIEGO--(BUSINESS WIRE)--Jan 31, 2018--BAE Systems has received two U.S. Navy contracts totalling $54.8 million to modernize the amphibious assault ship USS America (LHA 6) and the guided missile cruiser USS Cape St. George (CG 71). Both contracts include options that, if exercised, would bring the total cumulative value of the awards to $62.2 million.
"These contracts are important to expanding the service lives and capability of these Navy ships," said David Thomas, vice president and general manager of BAE Systems San Diego Ship Repair. "Our work on board the America will keep the ship ready for immediate service. For the Cape St. George, it is the beginning of a four-year journey toward full modernization and the ability to serve in the fleet longer."
The USS America was commissioned in October 2014. BAE Systems will perform hull, mechanical, and electrical repairs, as well as additional flight deck modifications to support F-35 Lightning II operations on board. Work on the 844-foot-long ship will be conducted at Naval Station San Diego by company employees and subcontractors. The modernization is expected to begin in March and be completed in December 2018.
The USS Cape St. George was commissioned in June 1993. BAE Systems will perform ship alternations and repairs aboard the 567-foot-long ship, including the replacement of critical aluminium structures and the removal of obsolete equipment, under the Navy's cruiser modernization program. BAE Systems' work on the Cape St. George, to be conducted at the company's shipyard in San Diego, is expected to begin in March and be completed by January 2019.
BAE Systems is a leading provider of ship repair, maintenance, modernization, conversion, and overhaul services for the Navy, other government agencies, and select commercial customers. The company operates five full-service shipyards in Alabama, California, Florida, Hawaii, and Virginia, and offers a highly skilled, experienced workforce, eight dry docks, and significant pier space and ship support services.