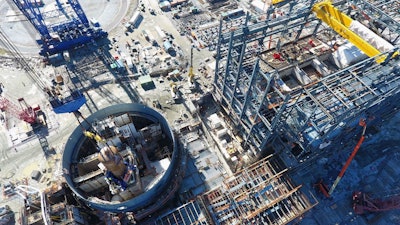 SCE&G
COLUMBIA, S.C. (AP) — State utility regulators have refused to dismiss a request that could lower rates for South Carolina Electric & Gas Co. customers after the company abandoned plans for two nuclear reactors.
The Public Service Commission on Wednesday refused to dismiss two cases against SCANA Corp, parent company of SCE&G, news outlets reported.
Wednesday's decision means regulators could stop SCE&G from continuing to charge ratepayers for the reactors at the V.C. Summer Nuclear Station in Fairfield County that the company and the state-owned utility Santee Cooper abandoned July 31. Typical SCE&G customers are paying $27 a month for the project.
The Public Service Commission has combined the request from the Office of Regulatory Staff to stop SCE&G from continuing to charge customers for the project with another proposal that would require SCE&G to refund about $1.8 billion collected since 2009.
SCANA attorneys have said either halting the collection of money or requiring a customer refund would bankrupt the company, which provides service to about 700,000 customers in central and eastern South Carolina.
SCANA lawyers said bankruptcy would make it harder for the utility to restore power after a hurricane or other natural disaster.
The Public Service Commission has also asked the Office of Regulatory Staff, another state agency that is supposed to safeguard customers and utilities, to determine whether SCANA's bankruptcy warnings are accurate.
SCANA's stock has dropped by about a third since the project was canceled. The stock closed at $41.32 Wednesday. Its shares are trading near a six-year low.
SCE&G and Santee Cooper largely blame the bankruptcy of lead contractor Westinghouse for the failure of the project, where $9 billion has already been spent.
Wednesday's decision is the first major decision against SCE&G since the project started in 2009. Santee Cooper's rates are determined by its own board, not the Public Service Commission.