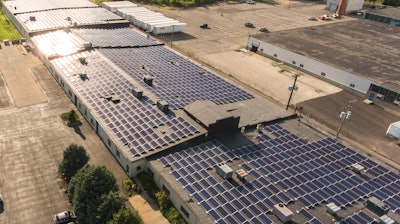 Advanced Machine & Engineering (AME), a manufacturer and distributor of precision machine tool components and metal cutting solutions based out of Illinois, has gone green. The company recently installed a 704 KW solar array on the roof of its manufacturing facility — making it the largest commercial installation in Rockford, IL history.
With the solar installation, AME qualifies for both the Illinois Solar Investment Tax Credit (ITC) and the Solar Renewable Energy Credit (SRECs). Collectively, these incentives will cover up to 80 percent of the system's cost.
"We all have a social responsibility to protect our environment, and clean energies like solar and wind power are a step in the right direction," says Dietmar Goellner, AME President & CEO.