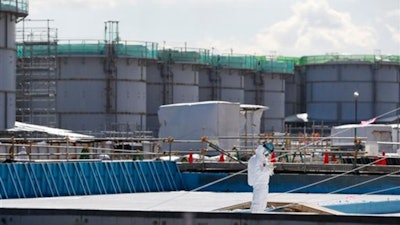 AP Photo
A suspected World War II-era bomb was found Thursday during construction work near the wrecked Fukushima nuclear power plant.
The plant's operator, Tokyo Electric Power Co., said that a worker spotted it while digging at a parking lot about 1 kilometer (0.6 mile) north of the reactors destroyed in the 2011 earthquake and tsunami.
The parking lot is part of the sprawling nuclear plant complex.
TEPCO said that a 200-meter (650-foot) area around the site was closed off. It's far enough away not to affect the delicate plant decommissioning work, the utility said.
The Defense Ministry said the rusty object was about 85 centimeters (33 inches) long and 15 centimeters (6 inches) wide. A military bomb disposal unit was headed to the site.
The area was home to a former military airport that was targeted by U.S. aerial bombardment in World War II, TEPCO said.