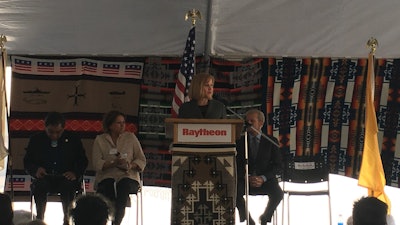 Raytheon
Raytheon formally opened a new $5 million, 30,000 square foot warehouse at its Diné facility on the Navajo Nation. Workers will use the new warehouse to build and store parts for the missile manufacturer.
The expansion provides dozens of new jobs on the Navajo Nation.
The warehouse is part of a larger 95,000 square-foot facility that has been on the Navajo Nation for more than 25 years. Raytheon Diné stores and generates parts for 12 missile programs such as the Tomahawk cruise missile, Javelin weapon system, and Advanced Medium-Range Air-to-Air Missile.
The warehouse construction is a part of an expansion that has resulted in an additional 70 jobs to include assembly line operators, engineers, supervisors and managers, bringing the total number of workers to more than 350.
Many of the employees are experts in intricate mechanical, electro-mechanical and harness assembly.
"With a foundation of skilled Navajo technicians crafting the highest quality products, the 93-percent Navajo-staffed facility in Diné includes Navajo team members in all roles from operators, to engineers, to management," said Navajo Nation President Russell Begaye in a press release.
In 2016, the Navajo Nation presented its 'Business of the Year' award to Raytheon Diné highlighting the facility's strong business growth, positive community impact, innovative manufacturing capabilities and technically advanced products.