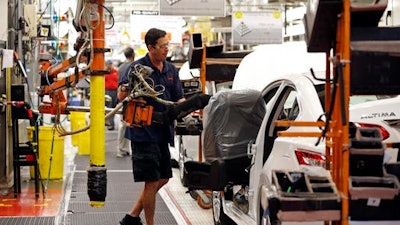 AP file
WASHINGTON (AP) — U.S. private businesses added the most jobs in more than two years last month, a private survey found, a third straight month of robust gains.
Payroll processor ADP said Wednesday that businesses added 263,000 jobs in March, the most since December 2014. That is up from 245,000 in February, which was revised lower.
The figure is much higher than economists' forecasts for the government's jobs report, to be released Friday. Analysts predict that report will show 178,000 jobs were added, according to data provider FactSet.
The job gains in the ADP survey were led by big increases in construction, manufacturing, and professional and business services, which includes high-paying fields such as accounting and engineering.
The ADP covers only private businesses and often diverges from official figures.