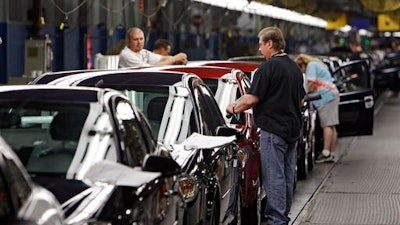 AP file
WASHINGTON (AP) — Construction, manufacturing, education and health care were fruitful places to look for jobs in February.
The construction sector posted robust gains, adding 58,000 jobs last month. That was the sector's biggest monthly surge in nearly a decade, and it was likely helped by unseasonably warm weather in much of the nation. The job growth was fueled in particular by specialty trade contractors in residential and business construction. Heavy and civil engineering contractors hired at a solid pace, too.
Manufacturers also stepped up their hiring last month, with 28,000 additional jobs. It was the best showing since August 2013 and a welcome sign after the sector lost 45,000 jobs last year. A trade group has reported that manufacturing expanded in February at its fastest pace in more than two years.
Also adding jobs at a solid pace in February were private education services, medical and dental clinics and business services. On the negative side, retail employers shed jobs, and the information sector was flat.
Overall, employers added 235,000 jobs in February. The unemployment rate dipped to 4.7 percent from 4.8 percent.