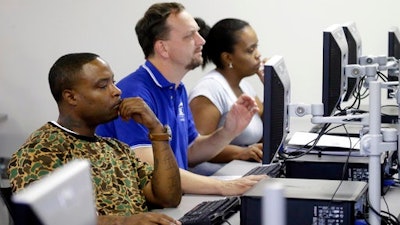 AP Photo/LM Otero, File
WASHINGTON (AP) — Fewer Americans sought unemployment benefits last week, which is evidence of a stable job market and greater security for workers.
THE NUMBERS: Weekly applications for jobless aid dipped 1,000 to a seasonally adjusted 234,000, the Labor Department said Thursday. Requests for benefits in the prior week were revised up 1,000 to 235,000. The four-week average, a less volatile measure, fell to 247,250 from 250,250.
Over the past year, the number of people collecting unemployment benefits has fallen 6.9 percent to 2 million.
THE TAKEAWAY: Applications are a proxy for layoffs. They have stayed below 300,000, a level linked with broader job growth, for 110 weeks. That's the longest period at such a low level since 1970, when the U.S. population was much smaller.
By holding onto workers, employers are also more likely to expect the economy to grow and potentially hire.
KEY DRIVERS: The unemployment rate has fallen to a healthy 4.5 percent as the gradual recovery from the Great Recession is approaching its eighth year. The hiring has helped to sustain consumer spending.
The March jobs report released last week showed that employers added a net 98,000 jobs last month. But in the past three months, employers have added an average of 178,000 jobs a month. That is just slightly below the average monthly pace of hiring last year.