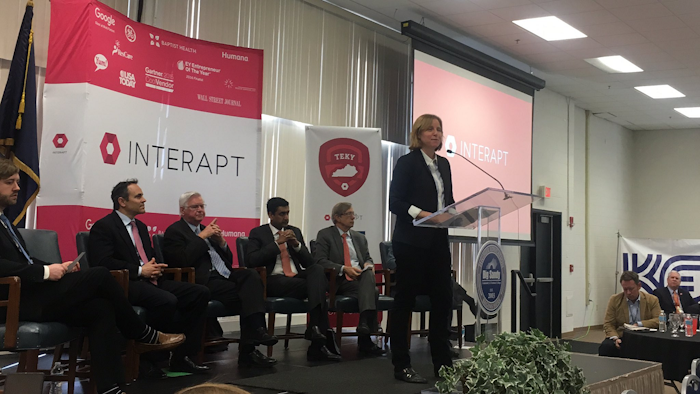 K. Ryan Burke, @KRyanBurke
PAINTSVILLE, Ky. (AP) — When the Kmart in Paintsville closed, Sean Crowl assumed his only option was to become a cashier at Wal-Mart.
The 29-year-old had an associate degree in English, but his only work experience was the few retail jobs available in this eastern Kentucky community hit hard by the loss of coal jobs.
But when Interapt, a Louisville-based software company, offered a training program in eastern Kentucky with the help of a grant from the Appalachian Regional Commission, Crowl was one of 800 people to apply, 50 to be accepted and 35 to graduate. Now he's developing mobile apps as an intern in Interapt's eastern Kentucky office.
"The fact that we were able to learn enough to work on those, build them from the ground up, get them to customers in 16 weeks is something I never thought would happen anywhere — let alone here," he said.
At an event Monday with Silicon Valley Democratic U.S. Rep. Ro Khanna, Interapt founder Ankur Gopal announced the company would begin a second class later this year.
Interapt is one of several companies hoping to jump-start eastern Kentucky's economy by reinventing its workforce. A manufacturing school to teach out-of-work coal miners how to operate advanced computer numeric control machines is scheduled to open this year. And Bitsource, a software and website development company, has been coding for two years in Pikeville after hiring former coal miners.
Khanna, who was elected in November, said he plans on "telling the positive story of this region in Silicon Valley, because so often you hear the negative."
"I'm going to go back home and talk to tech leaders and say, 'Look what's going on here. You want to invest,'" he said.
Programs like these have been a focus for Republican Gov. Matt Bevin, who has downplayed the value of traditional university degrees in favor of job training programs he says can be tailored to meet companies' needs. Bevin's budget last year included a proposal to borrow up to $100 million to refurbish some of the state's workforce training programs. Last month, the Bevin administration awarded $65.5 million to 25 projects at high schools and technical colleges.
"All this nonsense that you've got to go to college and get a four-year degree and that's a ticket to ride ... and then you are set for life? Nonsense," Bevin said. "What are you studying? What are you doing with it? That's the question we need to ask ourselves."
Eastern Kentucky is still struggling. In Johnson County, where Paintsville is the county seat, the unemployment rate in January was 10.1 percent, compared with 5.8 percent for Kentucky and 5.1 percent for the country. The region also continues to battle a prescription drug epidemic that contributes to Kentucky ranking among the highest in the country in overdose death rates.
But local leaders say the hope is that, over time, the region could become what U.S. Rep. Hal Rogers calls "Silicon Holler."
"I think this is a transformational change. You don't just change something like this overnight," Gopal said, adding: "We've never done more important work than this. And I want to continue to do it."