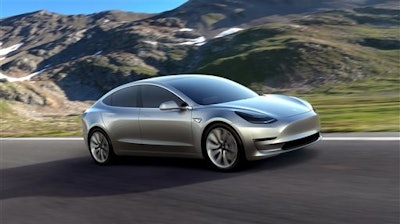 Tesla Motors
Gov. Brian Sandoval's State of the State address included a new announcement about Tesla Motors' plans to expand its operations in northern Nevada with more than 500 additional jobs.
Sandoval told lawmakers during a joint session in Carson City Tuesday night that Tesla will expand the factory manufacturing lithium-ion batteries to power its electric cars to include the production of electric motors and gearboxes for its next car, the Model 3.
Tesla currently has more than 1,000 full-time employees and 2,000 construction workers on site at the 5 million-square-foot "gigafactory" along U.S. Interstate 80 east of Reno-Sparks.
Sandoval says the new project will mean more than $350 million in additional capital investment and add 550 skilled jobs to Nevada's new economy.