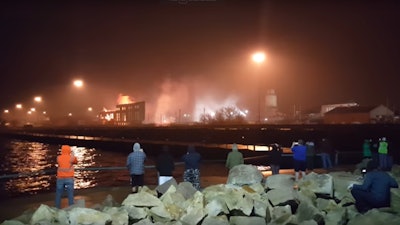 YouTube, frank c
CLEVELAND (AP) — A century-old power plant along Lake Erie in Cleveland has been demolished with 200 pounds of explosives that brought it crashing down in the middle of the night (jump to 2:05 in the video).
The 306-foot smokestack and the boiler building of FirstEnergy's Lake Shore Power Plant were toppled early Friday using strategic blasts. A crowd of people watching from a nearby marina whistled and cheered as loud booms and flashes of orange cut through the darkness and the structure keeled over.
Area residents had been warned about the noise.
It was the peak of a $15 million demolition project. A FirstEnergy spokeswoman tells WJW-TV it went according to plan.
The power plant was a landmark on the lakeshore and closed in 2015. The area is expected to be turned into green space for potential re-use.