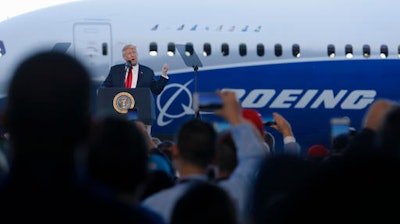 AP Photo/Mic Smith
WASHINGTON (AP) — Presidents since Franklin Delano Roosevelt have loved to tour Boeing factories. The lessons they draw from their time on the factory floor — and the inevitable photo opportunity beside shiny new airplanes — can differ wildly.
President Donald Trump on Friday touted the latest Boeing 787 Dreamliner as proof of a coming American manufacturing renaissance. He toured the South Carolina facility and hailed it as a sign of steps toward generating more U.S factory jobs.
Nearly five years ago, President Barack Obama made a similar visit to the facility in Everett, Washington. His message: America needs to prepare for the loss of factory jobs to automation and retool its economy.
The contrast speaks to the fundamental difference between Trump and Obama's economic policies. Where Trump promises a return to a brawny America full of factory jobs, Obama sought to increase exports and manufacturing output to help support job creation elsewhere in the services sector.
Trump blames factory job losses on cheap foreign labor and trade pacts. His speech at the Boeing plant in North Charleston, South Carolina, never once touched on the increasing role of robots on assembly lines. It glossed over Boeing's own statement that 30 percent of the parts for the 787 fleet come from foreign factories.
"Our goal as a nation must be to rely less on imports and more on products made here in the USA," Trump said. "We're going to fight for every last American job."
He proudly referenced the evolution of airplanes as proof of U.S. competitiveness. The Wright brothers invented a small wooden plane that first flew in 1903, Trump said, a far cry from the use of carbon fiber in the newest 787, which has room for 330 passengers.
The threat to U.S. workers comes not from advanced technology but from factories that have moved manufacturing overseas, Trump said — something he pledged to stop, saying, "There will be a very substantial penalty to be paid."
Obama, too, highlighted the advancements of the 787 when speaking at a Boeing factory in 2012. But what he saw was new technology and computers making companies more efficient, allowing them to rely on fewer workers and set up shop almost anywhere with an internet connection.
"The hard truth is a lot of those jobs aren't going to come back because of these increased efficiencies," Obama said from the factory floor. "We can't bring every job back. Anybody who says we can, they're not telling you the truth."
The key, Obama said, was to increase the manufacturing output of high-quality products and sell those goods abroad, something that would require fewer workers than in the past. But the profits from a stronger manufacturing sector would have a spillover effect and create jobs at restaurants, stores and other parts of the economy.
The prospect of more retail jobs did little to inspire voters in November, who turned to Trump even though Obama delivered job gains of 11.5 million during his eight years in office.
But the Boeing 787 being celebrated by Trump also helps to validate Obama's description of changes in U.S. manufacturing. Subcontractors that contribute parts to the fleet of planes include firms in Japan, South Korea, France, Canada, Turkey, Australia and China, according to a report by aviation consultant Teal Group.
"Jet makers are basically looking for best technology," said Teal consultant Richard Aboulafia. "In the case of low-tech parts, they're looking for lower cost, but the strong majority of components come from high-skill, high-wage countries."