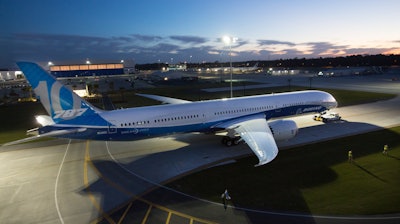 Boeing
The Boeing 787-10 Dreamliner, the third member of the 787 Dreamliner family, made its debut today at Boeing South Carolina.
Thousands of employees at the North Charleston, S.C. site celebrated the event, along with U.S. President Donald Trump and South Carolina Governor Henry McMaster.
"What's happening here at Boeing South Carolina is a true American success story," said Dennis Muilenburg, Boeing chairman, president and CEO, in a press release. "In just a few short years, our team has transformed a greenfield site into a modern aerospace production facility that is delivering 787s to airlines all over the world and supporting thousands of U.S. jobs in the process."
The 787-10, built exclusively at Boeing South Carolina, will now be prepared for its first flight in the coming weeks.
Boeing will deliver the 787-10 to airlines in 2018. The airplane has won 149 orders from nine customers across the globe.
The 787-10, the longest model of the Dreamliner family, will grow the nonstop routes opened by the 787-8 and 787-9 with unprecedented efficiency.
As an 18-foot (5.5-m) stretch of the 787-9, the 787-10 will deliver the 787 family's preferred passenger experience and long range with up to 10 percent better fuel use and emissions than the competition.
The 787 Dreamliner family is a key part of Boeing's twin-aisle strategy, which offers a modern, optimized and efficient airplane family in every market segment.
Since entering service in 2011, the 787 family has flown more than 140 million people on 530 routes around the world, saving an estimated 13 billion pounds of fuel.