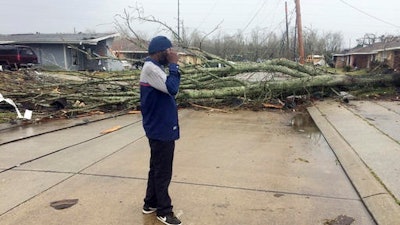 AP Photo/Gerald Herbert
An official at NASA's Michoud facility in New Orleans says it suffered some damage during Tuesday's tornado but the deep-space equipment being built there does not appear to be damaged.
Steve Doering was there when the wind started picking up and says it sounded like a freight train coming down.
He says a 43-acre building where they build rockets suffered significant damage on one end. A number of areas in the facility have lost parts of the roof or walls.
He says the hardware and tooling used in the Orion and Space Launch System were not damaged. But they'll have to do a "significant effort" to cover everything up and make sure any subsequent bad weather doesn't affect it while the roof and walls are repaired.
Michoud supports several projects that are part of NASA's next generation of space exploration including the Space Launch System — a heavy-lift rocket — and the Orion spacecraft.