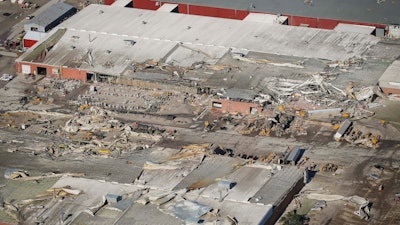 Rodney White/The Des Moines Register via AP
DES MOINES, Iowa (AP) — Seven people inside Vermeer's manufacturing plant in Pella, Iowa were injured when it was struck by a tornado. They were treated at a local hospital and released. Pella Regional Health Center spokeswoman Billie Rhamy confirmed Thursday evening that the injuries were minor and all patients had been discharged.
The factory, which has about 2,800 employees manufacturing industrial and agricultural equipment, was hit by a tornado around 4 p.m. Vice President of Operations Vince Newendorp says the east half of the company's campus, which includes seven manufacturing buildings, sustained extensive damage.
He says the plant activated its storm warning system and workers were in shelters when the storm hit. A number of homes in the area were also destroyed. A collapsed wall in one of the damaged homes ruptured, causing a major gas leak for more than an hour. The tornado reportedly dropped to the ground, rose back up and then dropped again.